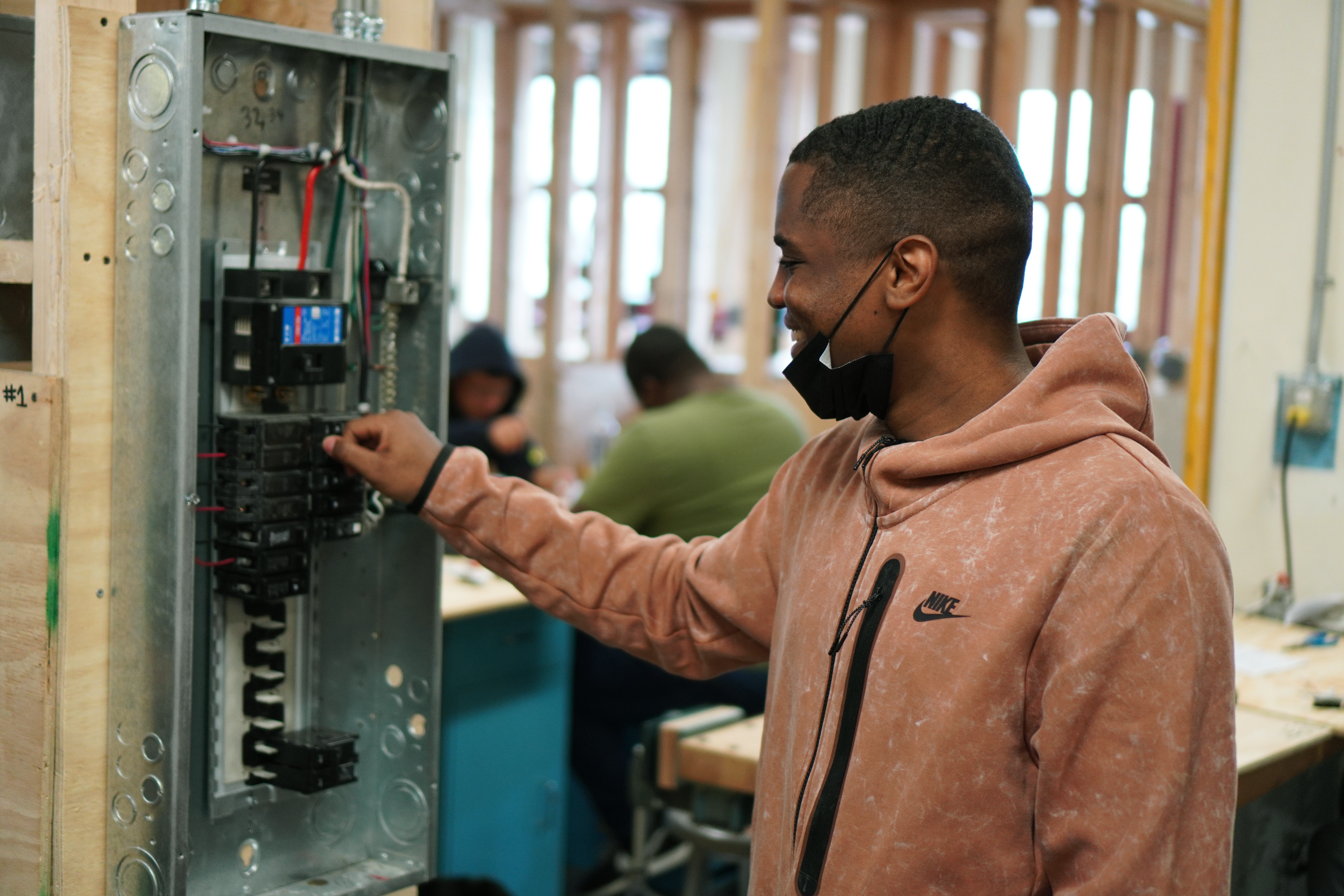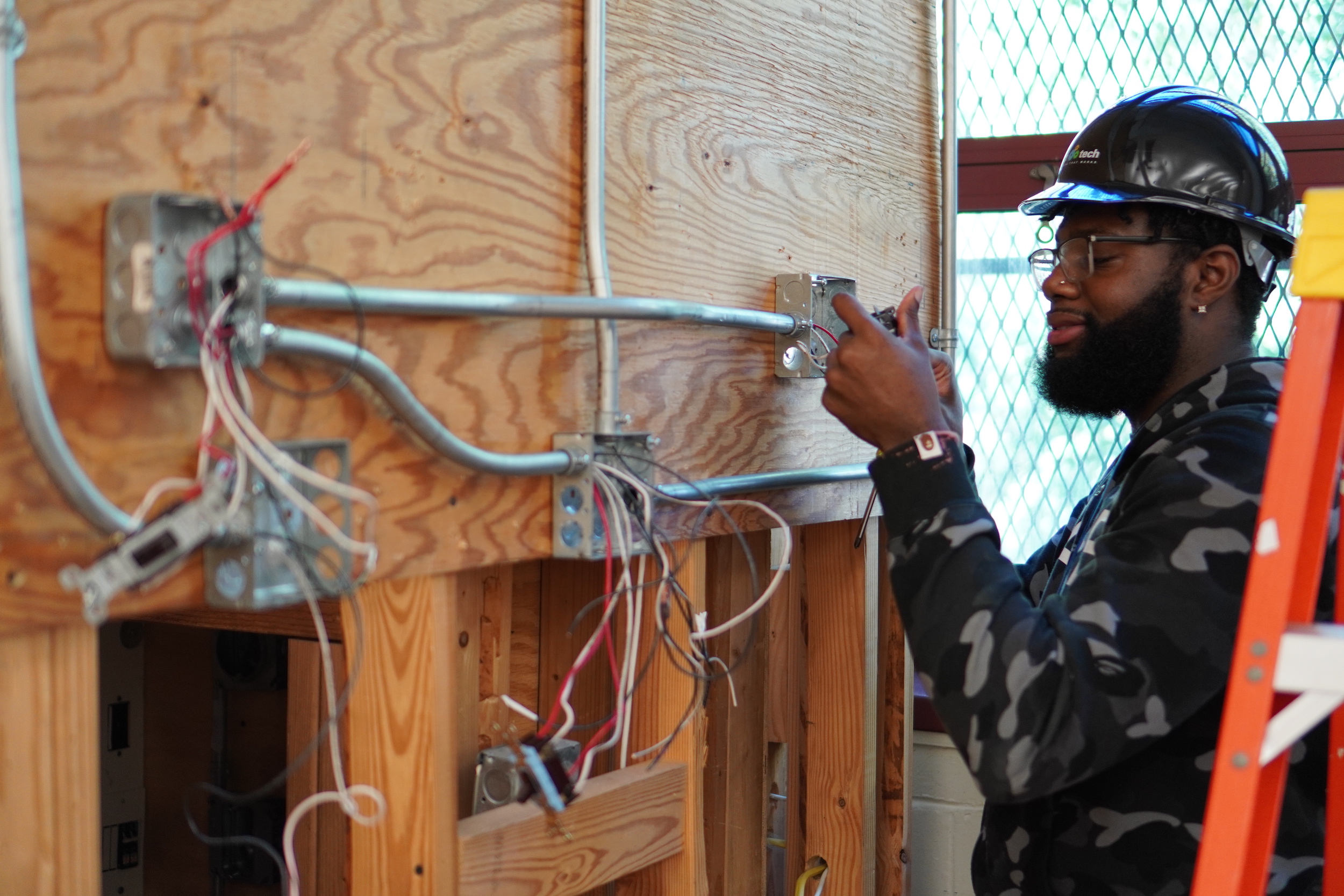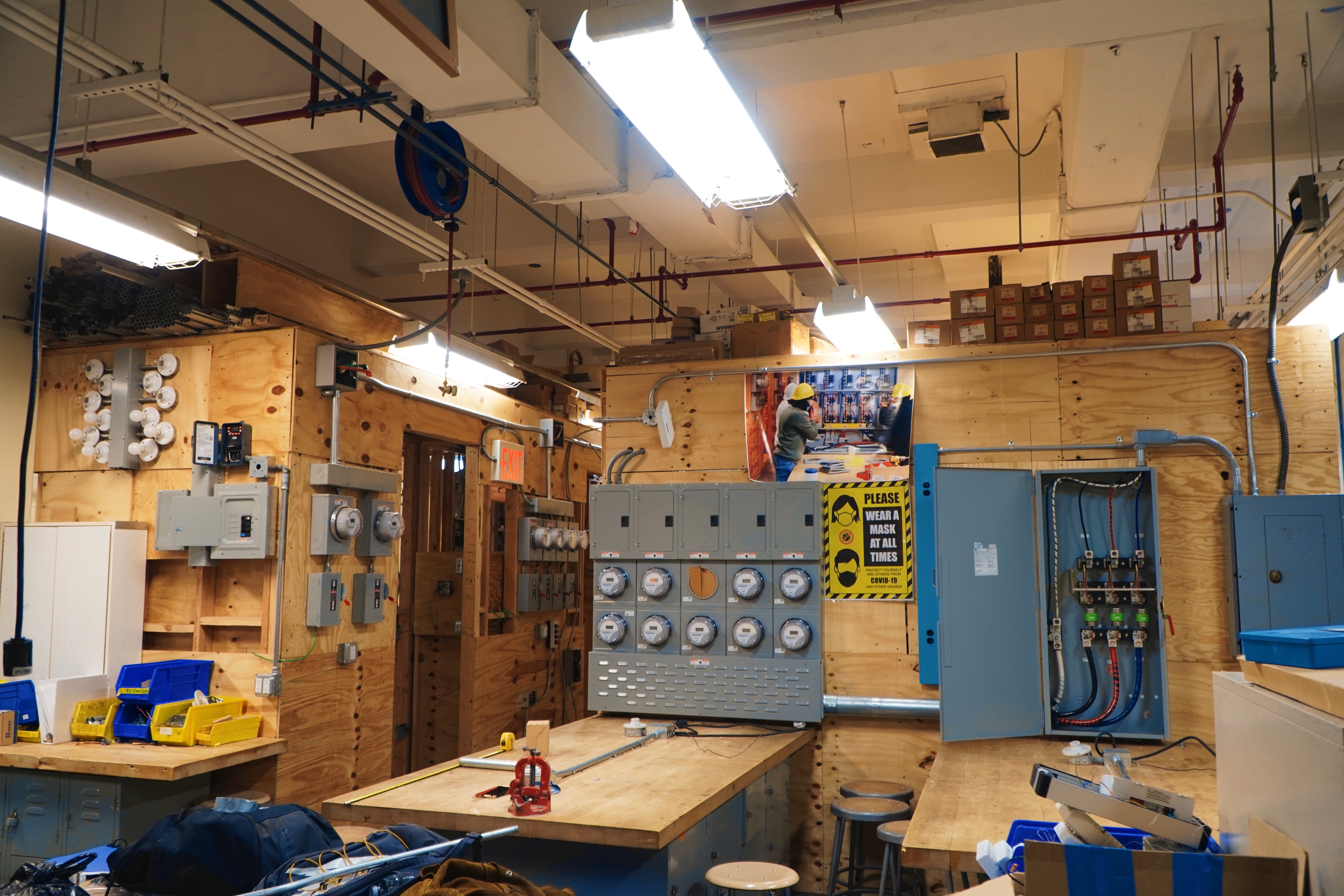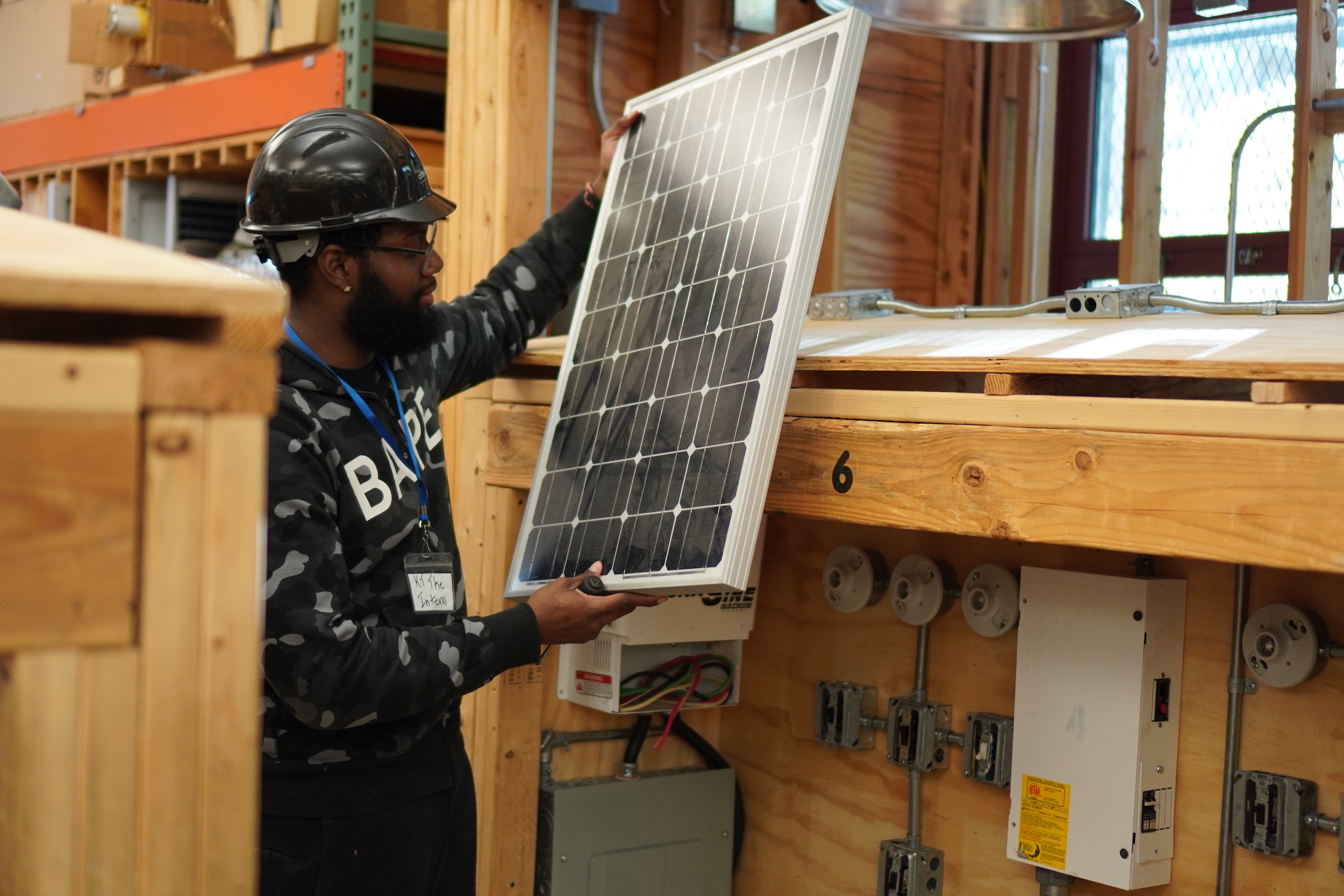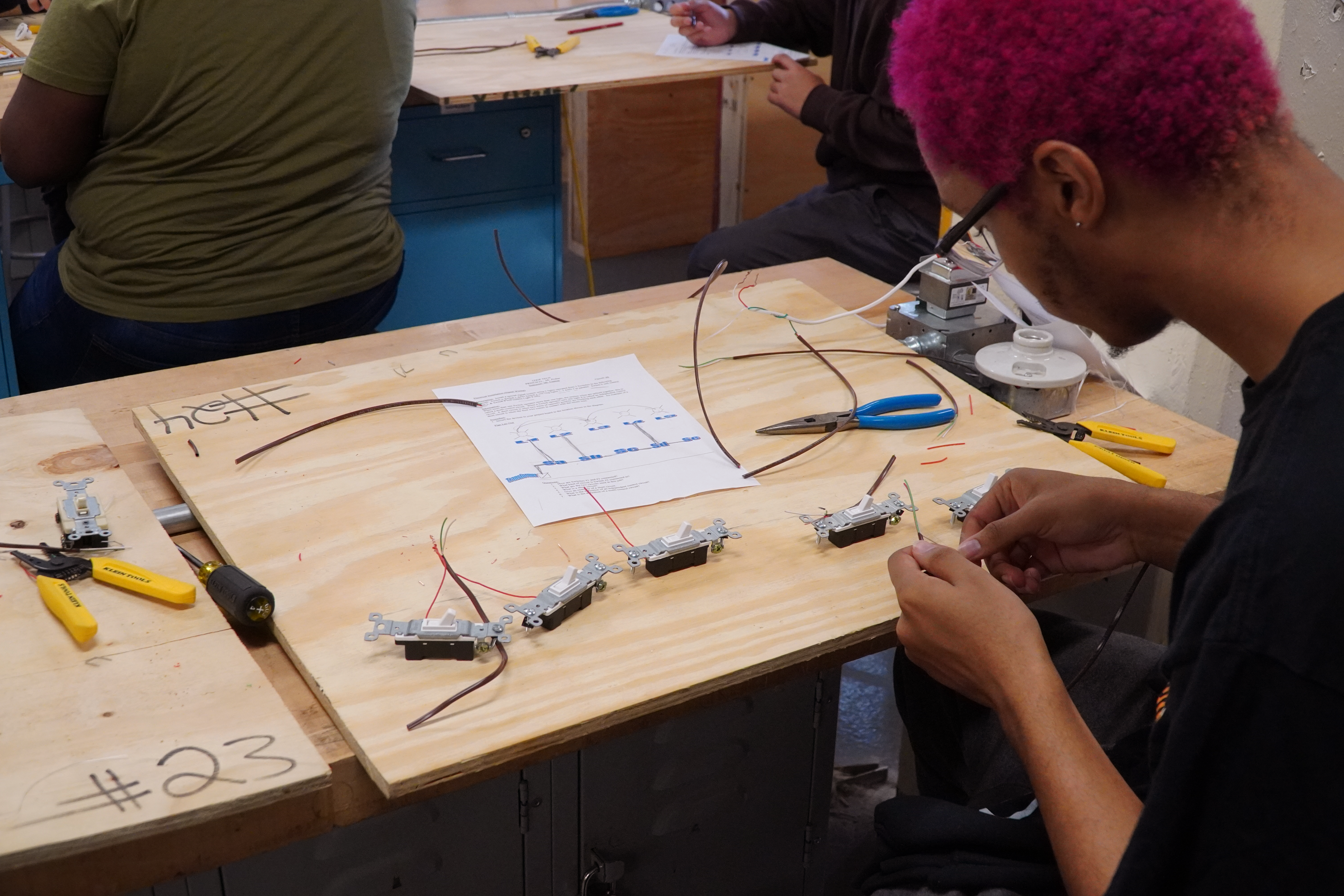 Residential
This course will allow students to learn the basic fundamentals of signal wiring, residential wiring, low voltage systems, and intercom systems. The course will also include use of mathematical formulas in order to complete circuit calculations for proper box sizes, raceways sizes, cable sizes, fuse protection and conductor sizing for any given residential circuit. Students will have an opportunity to complete all the wiring required for a single family home, starting at the power distribution equipment and culminating at the individual outlets and light switches. Additionally, the installation of digital timers, photocells, digital dimmer switches and smart switches, are all skills that will be covered in class to stay up to date with the latest technology. Throughout the semester, articles from the National Electrical Code Book will be discussed to ensure that the work performed is acceptable in accordance to local and national standard codes.
Industrial
This course is designed to offer students the necessary skills to obtain a job as an electrical helper in industrial wiring. The course focuses on the theory of electrical installations, which includes standards from the National Electrical Code. The class provides the theory and hands on work, which covers the principles for low voltage electromagnetic switches, industrial raceways installations, industrial lighting, transformers and motor control circuits.
Solar
This course prepares students for an entry-level position as a Solar Photovoltaic (PV) trainee. An entry-level PV trainee has basic knowledge and understanding of all components of a solar PV power generation system and can assist with installation. Within the scope of this course, students will use algebraic concepts as a primary tool to install, analyze, and test electrical circuits using an Electrical Tester. Students will also be instructed on proper safety procedures used during installation and an in-depth understanding of electrical schematic diagrams and basic NEC codes during installation. Finally, as an essential part of being an electrical apprentice is to be able to bend Electrical Metallic Conduit (EMT), you will experience the core fundamentals of bending ½", ¾", and 1" EMT using a hand bender. Hands-on projects are "all" done on an individual basis and student advancement.
Commercial
This course is designed for students to learn the fundamentals of commercial electrical work. These skills will help them succeed in both new construction and renovations. There is a strong focus on safety, electrical theory, trade math, circuitry, conduit bending and on the industry's shift towards low voltage and data work. Students will utilize daily math and writing assignments to hone their skills to prepare for union entrance exams.